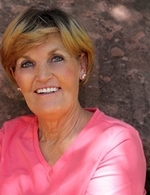 435-260-1879
435-259-8387 fax
435-260-1879 cell phone

juliebierschied@yahoo.com
505 N. Main Street
Moab UT, 84532
Receive Email Alerts from Me
A native of Ventura County, California until the ripe old age of 14 when her family abducted her away to Moab for the new life of cattle ranching and farming, miles away from all of her friends on a desolate mesa in the LaSals. Julie has come to appreciate Moab's spectacular beauty and vast recreational opportunities.
Julie graduated from GCHS in 1975. Later married Jody. They have three beautiful daughters who are now grown. As an empty nester now with five spunky grandchildren, 2 girls and 3 boys ages 11 mos. to just shy of 16.
Taught by the best, Julie has followed in the footsteps of her mother, Norma Nunn in the Real Estate profession. Julie has been a member of the C-21 prestigious Masters Club since 1994 and was awarded the C-21 Centurion designation in 1996. Most recently obtaining GRI designation. Julie has served our Real Estate community for 22 years, and plans to do so until she dies. Julie is in it for the long haul.
Julie Bierschied 's Listings
Listing Courtesy of : Arches Real Estate Group, 435-259-5021